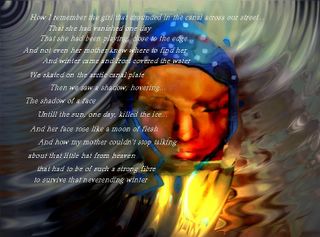 Picture: Daphne Buter.

How I remember the girl that drowned in the canal across our street. She had been playing close to the edge. And soon not even her mother knew where to find her.
Winter came and frost covered the water. We tried to forget about the missing girl, so, we skated on the arctic canal plate.
But in the end we saw a shadow, hovering… The shadow of a face when the sun killed the ice and then her face rose like a moon of flesh.
How I remember the girl's face, and that my mother couldn't stop talking about the hat that was still on the child's head when they found her; because I think it really amazed my mother that the hat was still in such good shape.