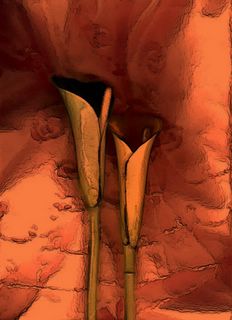 3 flowers, picture: Daphne Buter.

My mother had died all of sudden, and my older sister and my brother of nineteen and my stepfather and me, were in shock. One day after she had died we had to went to the graveyard while heavy rain was falling down on us, to look for a good spot to burry her. The undertaker, which we call 'a crow' in Holland, walked in front of us, dressed in black clothing that smelled like the fur of a wet dog.
After some time the crow showed us a spot in the earth that was 'still free' as he called it. He explained it would be a good grave because branches of a tree that was still naked then, would blossom lovely above the grave next spring.
I asked 'what is the name of this spot?'
Me and my family looked at that man's face, waiting for his answer, while raindrops kept running over our faces. I suppose all of us expected him to answer something like 'The Lane Of Peace' or 'Gently Shove' or 'The Corner Of God's Love'… but he answered 'Section 22.'
My sister, my brother, my stepfather and me, started to sob at full volume in the rain, when that crow said 'Section 22.'