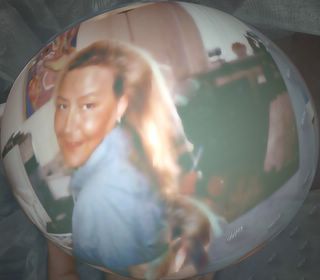 Ok, this is me, but photoshop made me look better than in real. Who cares. The internet is a hoax. Picture: Lente Buter (13)

It was winter and I stood in front of a frozen lake. I had gone there on my bare feet, to feed herons. It wasn't a normal winter. I don't remember a winter as arctic as that one. It felt like my mother had already died. It felt like I wasn't there. It felt like I had no feet. I was incarcerated by a cruel terminal winter.
I had bought glistening fishes and they looked so perfect. I couldn't stop touching their silvery skin. It began to snow and Herons ate tinsel from my fingers. I remember the sound of their wings. It was a brushing sound, and in my visions it was the sound of brushing lips. I closed my eyes to resurrect into an image. I began to fall in love with somebody, but I forgot his face, his name, his dick. The sound of brushing lips exploded from the heron's wings. It was the kind of detonation I sometimes experience on the inside of my cranium.